Most cemeteries regulate the headstones placed on graves within their grounds. Because each cemetery has different requirements, we put together a list to help you prepare and further understand what's possible.
This interactive map and list provides memorial design rules and regulations for dozens of the most visited cemeteries in Northeast Ohio. It helps ensure your memorial complies with regulations at your local cemetery.
If your cemetery is not on this interactive map, or you have questions about what is permitted in a certain cemetery, please contact us, or call us at (216) 362-1199. We'd be happy to help you.
Using the Interactive Map
Each cemetery is marked by a red, blue or green pin. The color indicates generally what types of memorials the cemetery allows.
The pin color indicates if the cemetery allows: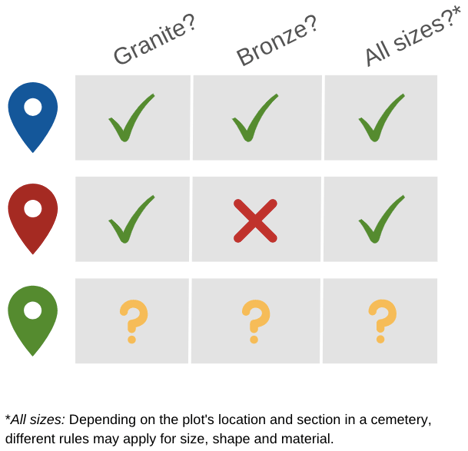 Click on a cemetery icon on the map to see a quick description of what's allowed. Or, you can review the cemeteries included below the map listed alphabetically.
Contact Milano Monuments to have a memorial specialist walk you through the options.
Alphabetical List of Included Cemeteries
*Note that for cemeteries that allow all shapes and sizes, individual regulations depend on the location and section in the cemetery, and different rules may apply and only allow certain sizes or materials.
Contact Milano Monuments
Our certified memorialists are ready to respond to all questions. With 50 years working with families in Northeast Ohio, we are ready to help you through the process at your pace. Complete the form below, or call us at (216) 362-1199, to talk to a memorial specialist.