Every morning, students and faculty at Rocky River High School are greeted by a six-foot tall, 3,000-pound statue of the school's pirate mascot.
It's an impressive sight to see. Not only is it a testament to the school's loyal spirit and close-knit community, it's also a staple of the school's recent $300,000 renovation project—one of the largest known publicly funded school projects in the state.
While an outsider might only see the statue as an impressive work of art, those close to the community know the pirate has a much deeper meaning.
In Loving Memory of a Proud and Passionate Alumna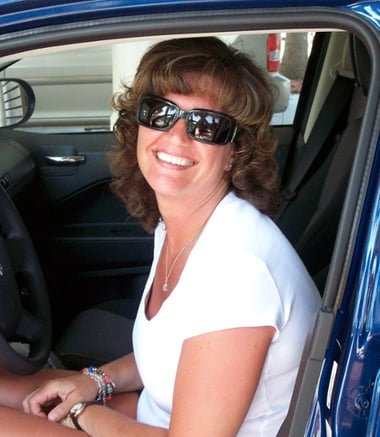 Maria Milano and her brother Jim were very close growing up. They both attended Rocky River High School, where Jim says they spent some of the best times of their lives.
As a member of the cheerleading, swimming and softball team, Maria made many life-long friends.
"She loved, loved her time in high school," Maria's daughter, Alecia, said. "She was friends with many kids from her high school class that no longer even live in the state."
Following their time at Rocky River High School, Maria and Jim became co-owners of Milano Monuments after their father retired from the family business in 2001. For the next 10 years, Maria and her brother operated the family memorial and gift shop that's been serving Northeast Ohio since 1969.
However, in December of 2012, tragedy struck the Milano family when Maria passed away from a highly aggressive form of breast cancer. She was 47.
A family whose job it was to console others during times of intense grief was left struggling with a tremendous loss of their own.
A High School Campus Renovation Built on Community Partnerships
A few years after Maria's death, Rocky River completed a $32 million high school renovation. The makeover included new paved parking lots, renovated classrooms, a new sound system in the auditorium, technology upgrades such as wireless access throughout the building, and renovations to the main gym.
However, those renovations only involved the actual building—not the grounds outside the high school. As a result, community members formed a non-profit organization known as the Rocky River Campus Project.
During that time, Maria and Jim's cousin, Jay Milano, was the school board member in charge of the project. According to Jay, the goal of the Campus Project was to raise funds to enhance the landscaping and outside areas of the high school, while building partnerships with people in the community.
"We wanted the high school to have a 'college campus' feel," Jay said. "We wanted it to be the center of the community."
As members of the community began to make private donations to the Campus Project, Jay reached out to Jim and asked him if Milano Monuments would be interested in donating something for Maria.
Jim jumped at the opportunity to contribute to the school he loved in honor of his sister.
Maria's School Spirit Fuels a Life-Size Idea
Maria's love for her high school sparked the idea to donate a life-size mascot. Everyone, especially Alecia, knew just how much Maria loved her time in high school.
"She talked about her friends from high school up until the day she passed away," Alecia said. "We wanted to do something that revolved around school spirit and her love for Rocky River High School. That's where the pirate came from. It's the part of the school that has the most spirit."
Milano Monuments finalized their plans and presented the idea to the school board.
"The community loved it," Alecia said. "The high school was all on board with it, so we went right to work."
Hand-Crafting Maria's Memory
The 3,000-pound pirate statue took around eight months to create. Once the design was sketched out and turned into a clay model, Milano Monuments' skilled sculptors handcrafted the life-size granite mascot.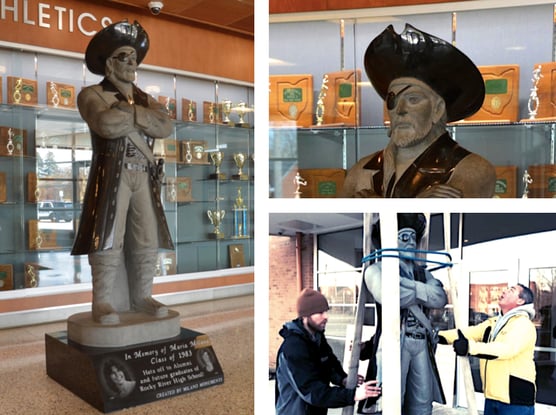 The statue stands approximately six feet tall and includes:
A hand-polished, smooth black hat, coat, eye patch and belt.
Hand-carved earrings, ponytail and sword.
A black granite pedestal that includes engraved lettering and two hand-etched portraits of Maria Milano.
School Spirit, Community Pride and the Memory of a Beloved Rocky River Pirate
The pirate made its debut during a halftime ceremony at the first home football game of the 2014 season. From there, the statue was fitted to a pedestal and moved inside the high school, where it proudly stands in front of the school trophy case.
"It is a live, impressive, permanent example of school spirit," Jay said. "It's a big part of the community."
The Rocky River Pirate statue is one of the most talked about and recognizable projects Milano Monuments has ever done. Students, alumni and parents frequently take pictures with the statue, often sharing them on social media. Each picture generates awareness for the school and also grows the connection between the school and community.
Whether it's school spirit or community pride, the statue represents the loving memory of a former student who walked the very same halls where the pirate currently stands.
Design Something Unique For Your School
This personalized statue was a meaningful was to honor a loved alumna. Reach out to learn more about how we can work with your school to design something special and customized to you.
To learn more about how Milano Monuments can craft your school a memory that lasts a lifetime, contact us today. Or, visit our school services page for more information.